Octoberama 2022, Vol. 3 – Drag Me to Hell/Two Witches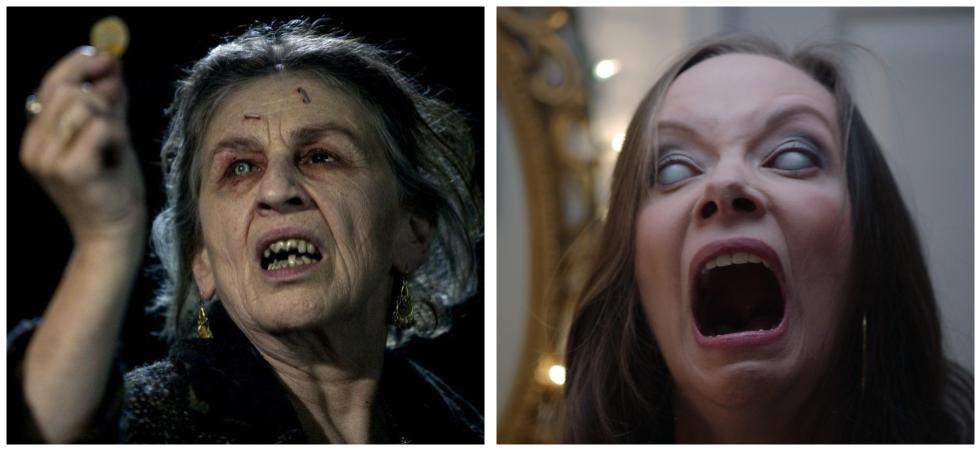 Fillet of a fenny snake, In the cauldron boil and bake; Eye of newt and toe of frog, Wool of bat and tongue of dog, Adder's fork and blind-worm's sting, Lizard's leg and owlet's wing, For a charm of powerful trouble, Like a hell-broth boil and bubble. Put the lime in the coconut and mix it all up. What do you get? Well you get Week of the Witch! Octoberama continues with the first ever witchy week, as chosen by our Grave Diggers on Patreon.
Before we get to all that, though, we've got to take care of Horror Business. Starting off in Real World Horror, we discuss a pair of women who saw an eerie glowing specter of Shia LeBeouf in a church. We then talk about multiple small screen adaptations of big screen films, namely Godzilla, Fear, Goosebumps, and The Wicker Man. We then wrap up with a Halloween update to the video game Back 4 Blood.
For our witchy reviews, we first look at Sam Raimi's 2009 return to horror Drag Me to Hell. We tell you the good, the bad, and the ugly. We then examine the new film Two Witches, about… two witches. Obviously.
So hop on your broomstick and hit the skies with a brand new episode of The Grave Plot Podcast!
Podcast: Play in new window | Download