Drunken Cinema, Vol. 3: Evil Dead 2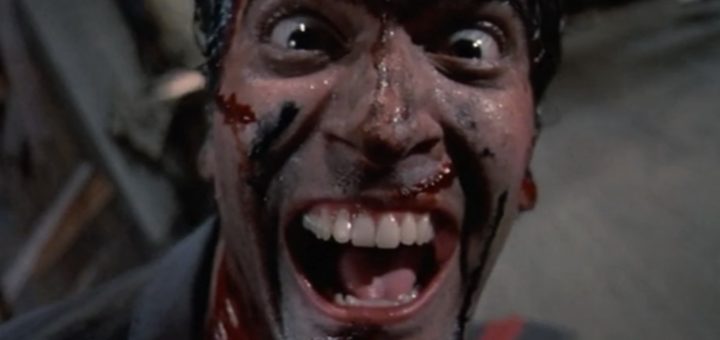 Two men enter. Two men leave. Several bottles of booze are left in their wake.
Drunken Cinema is back with a vengeance. This time around we're watching the 1987 classic from Sam Raimi and starring the incomparable Bruce Campbell, Evil Dead 2. If you're thinking to yourself that you missed part 1, don't fret. We didn't do it. If you're asking why not, just… deal with it. Okay? Could you just… okay?
Much whiskey and rum was imbibed and much bullshitting was done, as has become the norm. This episode includes sing-alongs and other fun stuff, too. Okay… full disclosure… I don't really remember what else happened. We got a little silly this time. And here's the kicker; this was part of a double header (prepare for part 2 at some point in the future).
Of course, it wouldn't be Drunken Cinema without a relevant cocktail. This time around your drink is the Chainsaw.
---
1 1/2 oz chilled tequila
5 – 10 dashes Tabasco sauce
1 splash lime juice
1 splash lemon-lime mix
1 pinch black pepper
Pour chilled tequilla, Tabasco, lime juice, and lemon-lime mix into a cocktail mixer with ice. Shake briefly. Fill a (chilled) shot glass, garnish with black pepper, and serve.
---
So watch along with us and listen to our incoherent babbling. I'm going to go have a listen too just to see how much of an ass I made out of myself. Cheers.
Podcast: Play in new window | Download