Scary Tales Publishing presents Monster Smash-Ups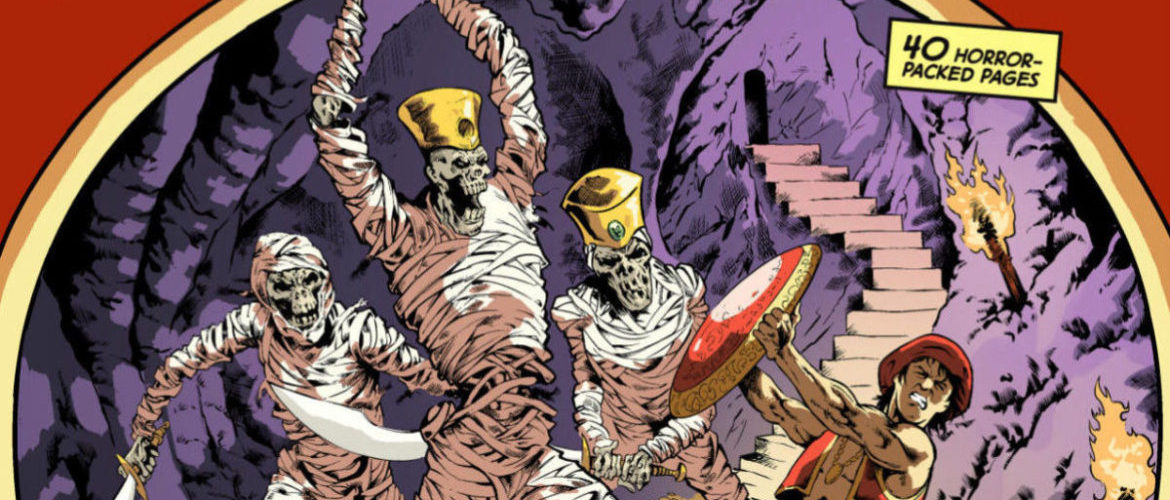 Scary Tales Publishing, the indie comic label best known for the series "Fractured Scary Tales," has come out with a new series that they describe as "more scary than parody." It's called "Monster Smash-Ups" and the name should give you a good indication of what it's about.

The debut issue of "Monster Smash-Ups" is a 40-page anthology, featuring six unique stories that combine a classic monster or two getting mashed together into one new and different story. Each story comes from a different writer and artist, giving each one its own individual style and feel. Artists range from the virtually unknown, to industry veterans like Manuel Martin and Bob Berry, to comic legend Nick Cuti (best known for co-creating E-Man). From the press release:
All of the stories are mash-ups; the villagers attacking the monsters in "The Diary of Anne Frankenstein," a swamp creature vs. zombies in "The Bogman Cometh," Dracula vs. an Arthurian knight in "Unholy Grail," vicious predators vs. space miners in "Harvest," a renown naturalist vs. unnatural terrors in "Mr. Darwin's Zoo of Horrors," and even an Arabian legend vs. a horde of menacing mummies in "Ali Baba and the Mummy Thieves."

Kevin M Glover, publisher of the relatively new indie comic label, said: "We're very excited to present this more serious collection of horror shorts. Each tale of terror ends with an ironic twist, a la the old 'Tales from the Crypt'. People really seemed to love our companion comic mag, the frighteningly funny 'FRACTURED SCARY TALES', (currently launching its 3rd print run), but they also asked if we could make a book that was more scary than parody. 'MONSTER SMASH-UPS' is that book. Just don't read it alone in the dark!"
I was able to thumb through the book, thanks to publisher Kevin Glover, and I can tell you that these are beautiful comics. They are all in black and white and are clearly inspired by the old horror comics like "Tales From the Crypt" or "Weird Terror." "Smash-Ups" is certainly a much more serious tone than "Fractured Scary Tales," which took classic movies and gave them a horror twist, with titles such as "Planet of the Were-Apes" and "Undead Poets Society." While not as gruesome as some titles like "Crossed" or "The Walking Dead," "Smash-Ups" is certainly not something you'd find in the Sunday morning funny pages. The publisher's website rates it PG (for "Pretty Gruesome"), claiming some content may be too intense for all readers.
"Monster Smash-Ups" is available at an introductory price of only $10, marked down from $14.95, at http://www.fracturedscarytales.com/.